January 30, 2021 – February 08, 2021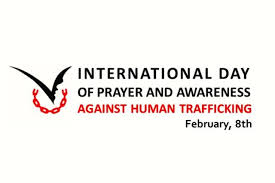 For Fasting, we do this to represent those who are trafficked and have not been given meals or are having to do as their johns have asked them to receive a meal. It is no life to live – and is an atrocity to humanity. Fasting is to include water, fruit or vegetable juices, broth and mornings can include a fruit and/or vegetable shake to provide the necessary proteins and vitamins. Please heed to your health conditions – we appreciate you being an advocate but want you to stay as healthy as possible.
Prayer and scripture. Some have begun on January 11th – which is Human Traffic Awareness Day. January is Human Traffic Prevention Month. (May use prayer calendar that begun on January 11 or use the schedule below) We end the month of January with prayer and fasting and will continue for 10 days til February 8th – International Day of Prayer and Awareness against Human Trafficking. You can use the
attached calendar to help you for prayer.
---
---