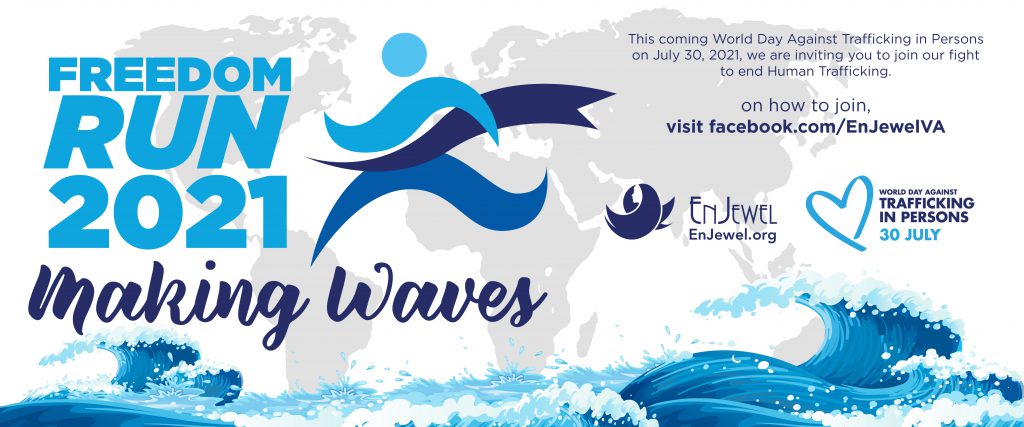 In preparation for World Day against Human Trafficking in Persons on July 30, 2021, ENJEWEL is doing their 2nd FreedomRun 2021 on July 22, 2021 at Mt. Trashmore, Virginia Beach, Virginia : A fundraiser to give justice in the fight for others in trafficking..
Mechanics for the run are as follows:
Registration for the run is open until July 29, 2021.
Once registered, participants will receive their printable bib/singlets via email.
Participants can do the run at their own convenience and choice of location (You can even do the walk/run on your treadmill!) The live run will be on July 22, 2021 at Mt. Trashmore. And you can do this activity from July 23-29 virtually – wherever you want. This helps this run be done Worldwide!.
To campaign louder and further, we encourage our participants to take a pre and post run photo or video* that you are running to fightWorld against Human Trafficking in Persons Day, while wearing a shirt with the printable bib/singlet attached.
Participants can then upload their photos and videos on the ENJEWEL Facebook page to encourage other people to run for the same cause.
For participants who can't do the run, we encourage these advocates to put a blue ribbon outside of their homes (front door, gate, fence, the tree in front of their home, or even their car door, antenna or window) to signify that their household supports the fight against Human Trafficking and victims can run to them for help.
Participants will receive a #MakingWaves t-shirt and goody bag after posting a picture of them with the singlet on and show their proof that they have completed the 5k. We also encourage to get a witness to sign the singlet or show the run/walk app in a photo or video.
Registration fee costs $40. Proceeds from the event goes to EnJewel's collaboration partners:
Building a minor home called "SonShine. And continuing to support "Saving Grace."
Adding a gym to the existing center with "Helping Hands" to help deaf and blind children off the streets to be possible victims to trafficking
Supporting the first of its kind home for minor boys in the Philippines
Together, let's run for freedom!
You will be redirected to freedomrun2021.enjewel.org
*EnJewel reserves the right to take down the photo or video should there be any inappropriate with and/or embedded in the video.